This Cincinnati Watch Company would like to thank and highlight The original Cincinnati watch company, "D. Gruen, Sons & Company" One of the first precision mechanical watch companies in the United States, The Gruen Watch Co built a World renown American watch guild known as Time Hill on East McMillan in Cincinnati, Ohio.
The most definitive article on the history and evolution of The Gruen Family found on the web, by Paul Schliesser
Gruen started in 1894 by Father & Son duo Dietrich & Fred Gruen. Later in 1898 joined by other son, Goerge.
1898 the company was offically relocated from Columbus to Cincinnati, occupying space in the Johnson Building on Fountain Square. Image courtest of webmaster Don Prout at http://www.cincinnativiews.net/fountain_sq_looking_east.htm. The Johnson Building is the building on the right in front of the tallest building on right.
![gruen-in-johnson-cincinnati-1900.jpg](/storage/app/uploads/public/5ab/325/17d/5ab32517d11c5257142025.jpg width="600px")
Time Hill in Cincinnati
High on a hill overlooking the Ohio River sits the famous Gruen Watch Makers Guild, Time Hill. Built for hand picked horologists dedicated to durability and "Precision" watch making; the word "Precision" later becoming a word they owned and had printed on many of their dials.
The space provided the inner wealth of inspiration for the horolgists and jewelers at Time Hill. The grounds consisted of pleasant paths to benches and overlooks and beautiful calm esthetic to inspire the jewlers inside.
Cincinnati, Ohio exists on a River plane in a River Valley; early factories and pig slaughter houses made the valley dense and stinky. Moving up onto the hill at that time was a real wealthy thing to do. They put their souls into it.
Dietrich Gruen? The Swiss Master Who Brought Old-World Watchmaking To Cincinnati, Ohio.
Dietrich, Fred, then Goerge: D. Gruen, Sons & Company
Glashütte style, Fred was trained in Glashütte Germany, Went there on the onset of D. Gruen and Son Dietrich and Fred designed a movement on went to Glashütte to have it manufactured by Assmann in Glashütte (Source: http://www.pixelp.com/gruen/1894.html) Fred stayed on to export American Factory Engineering and Processes to the old world watch makers in Europe for a year.
Dietrich Gruen believed that everything worth doing should be done beautifully. That insistance is a truism of mechanical watches, they do not simply tell time; they are peices of beauty whose elements enrich the other until the whole mechanism takes a personality.
Mr. Gruen, a master in the Swiss guilds of horology was convinced by his American girlfriend that he could prosper in America. To his commitment to old-world Quality, Esthetic, and Spirit he of course used only the best horologists From Glashutte, and German and then Swiss movements and parts and assembled them in an American tool shop.
Built like the grand halls in Nuremberg "Time Hill" sits at top of the River Valley overlooking the Ohio River in Cincinnati, Ohio. Here Swiss made movement and parts were assembled into Precision watches assembled and repaired in the USA.
Gruen Watch Company: "America's Choice Since 1874"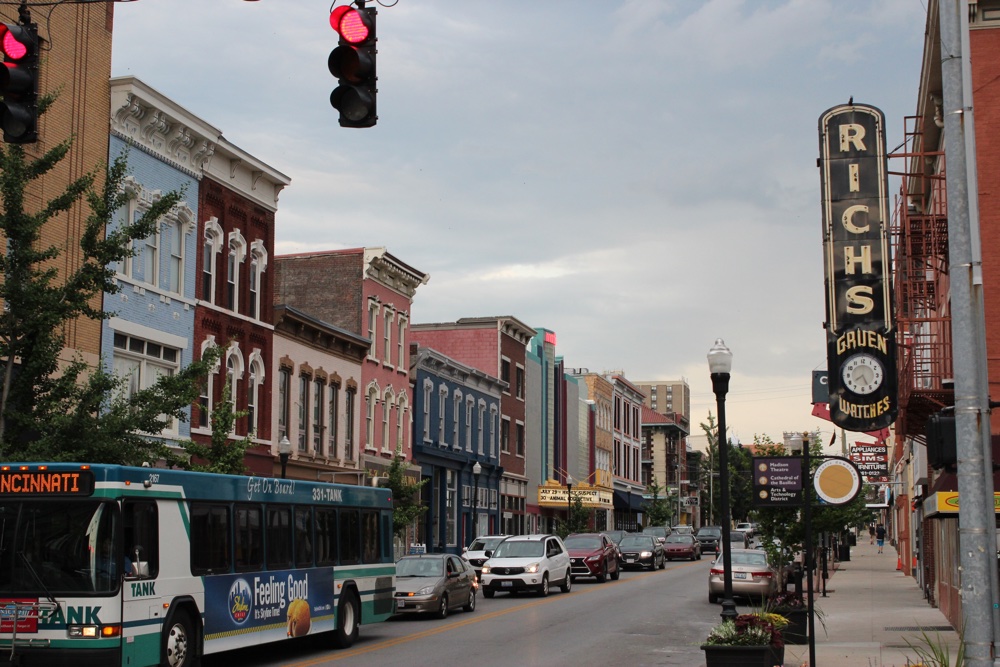 Fred Gruen dealt directly with individual jewelry stores, Like Rich's, in Covington!
Originally named Grun, the "u" with two dots over it, Dietrich Grun changed his name when he came to America because that letter does not exist in English.
Time Hill was modeled off of the Swiss halls of Nuremburg and the towns that contain the watch guilds where Grun himself became a master.
Gruen Imported Movements from Switzerland, Asssembled Gruen Watches in Cincinnati
Making The Movement Smaller, Rectangular And Curved
Dietrich Gruen was dedicated to making a watch thinner than the pocket watch turned sideways, as it was at the time. Gruen took the design of movements to a whole new level by building the cruved movement so that watches can be rectangle and curved with the wrist. A popular style in 1930's.
He created the "Veri-thin" Movement which was a revolutionary movement designed to be half as thin as the bulky watches of the day.
The Gruen Watch Co. helped usher in the popularity of the wrist watch over the pocket watch. Wrist watches are the common use today but at the turn of the 19th century wrist watches were considered jewelery for women.
The Gruen Watch Company produced American Made Watch Movements
Gruen Made Movements in The United States!
We are now the proud owner of this Gruen Watch assembled in Cincinnati at Time Hill in 1949-1950 that has the same movement in it, the 335, being built in Cincinnati at that time. American made movements were made by the Gruen Watch Company in Cincinnati around 1948-50. They were The 335C and had Cincinnati, USA engraved on the movement.
Our Green watch's 355 movement was made in Switzerland, unfortunatley. BUT we now own the pictured Gruen 335 Movement made in Cincinnati, OH. USA. 1949.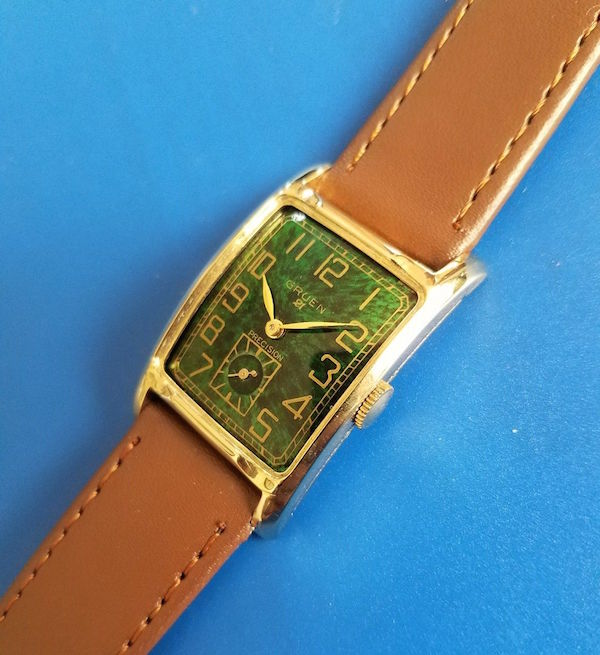 Renting space from the American Playing Card Company in Norwood, Ohio, a non-incorporated city inside of Cincinnati, Gruen housed the machines that made the parts for the American made movements.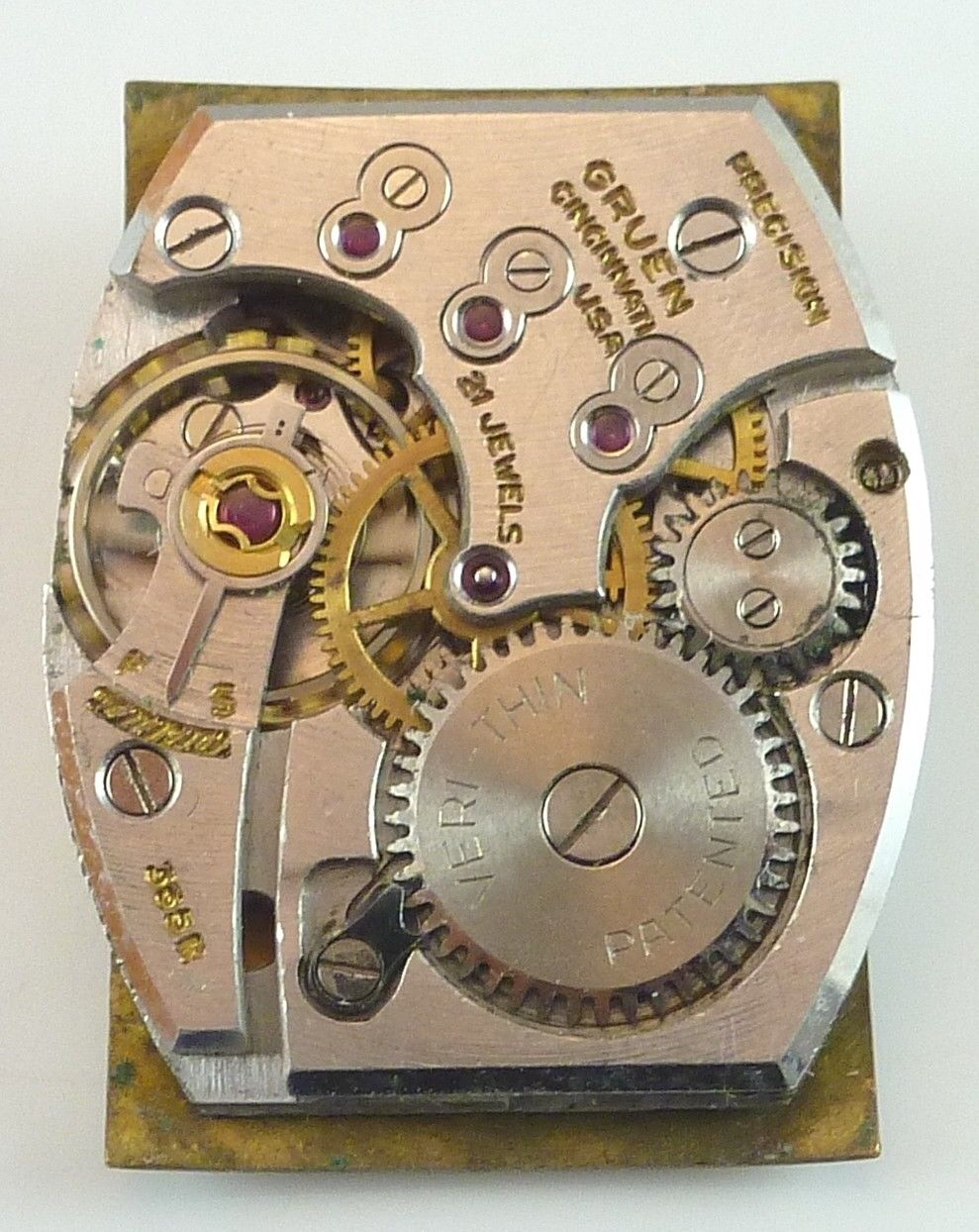 Gruen During WW2
The Gruen Watch Company played a vital role in transferring their production lines from watches to instruments the Allies needed to fight World War 2. They made sensitive flight instruments and dashboard panels. One fact of Gruen's contribution to WW2 Allies was the Pan American Watch was only sold to the public after orders from American Air Forces were filled. Gruen was able to sell the Pan American after the war but during the war The Gruen Pan American was an American Airforce issued Pilot watch of WW2 to some degree. How much I do not know.
Here is a real advertisement for The Pan-American from 1944 during America's involvement in WW2.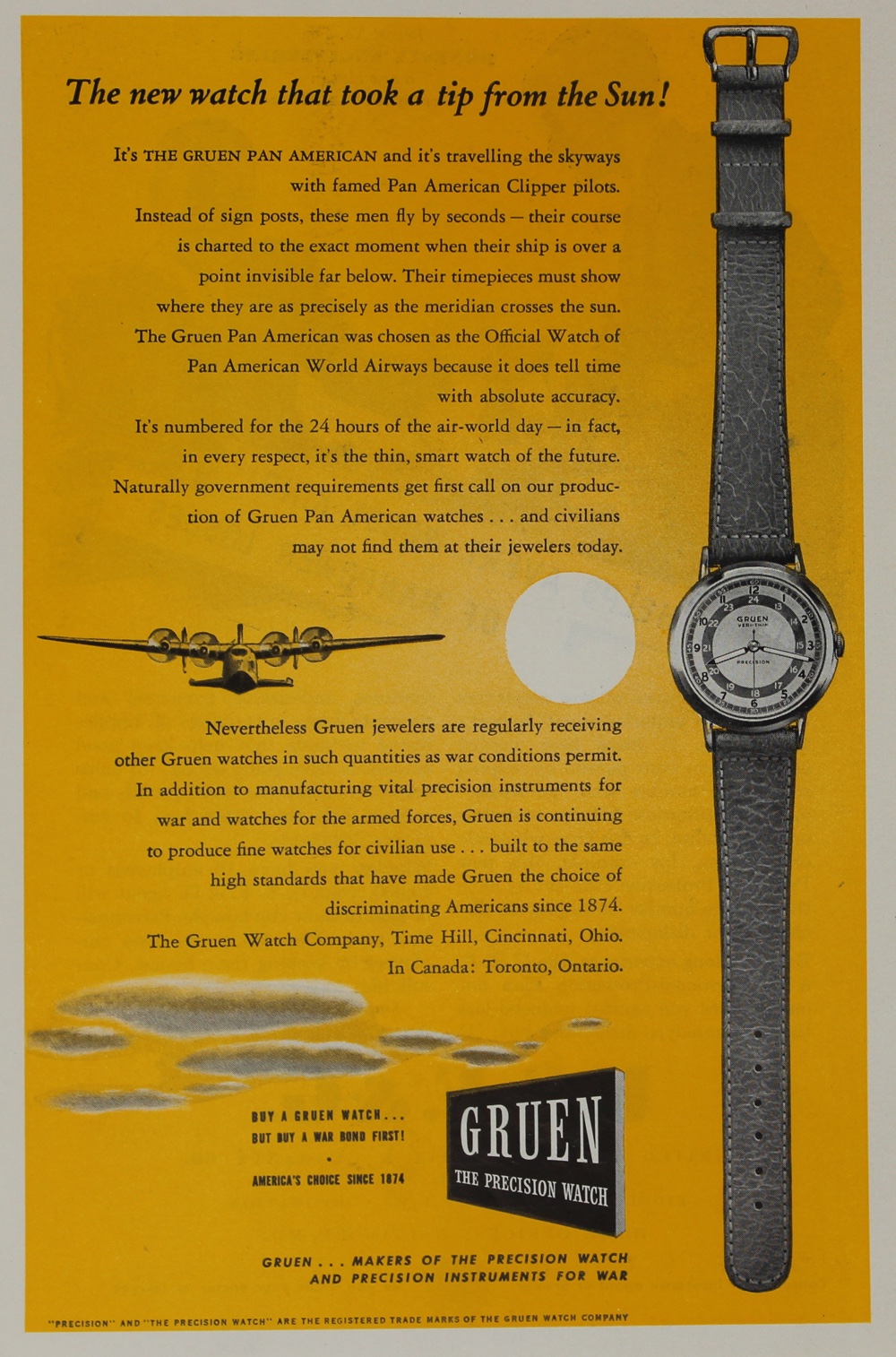 Get your college graduating daughter a Precision Watch by The Cincinnati Watch Company. Commercial for Gruen 1950's
Even in 1950 they knew that the perfect gift for a College Graduate is a precision mechanical watch. The commercial above is from 1950, can't you tell. Today, fortunate students at Xavier University can acquire a Xavier licensed mechanical watch from The Cincinnati Watch Company. Recieving a mechanical watch as you are about to go out into the market economy is the best gift you could bestow, maybe a car would be great too, but a mechanical watch, now that says a Lot about a person. A mechanical watch wearer is a person of taste. The like science and technology. The like style and design, they care about time and their time. Mechanical watches provide a bravado that suggests the watch is much more than gears and springs, but an empowering force that your son or daughter will feel as they interview with elder business owners.
Gruen the flight watch?
During WW2 Gruen made 24 hour watches and evolved a line of flight watches potentially for the pilots of WW2 pilots, the Pan-American series. We know Gruen made many sensors, dial and precise measuring dials for the machines and dashboards meaurements like areoplanescockits.
So imagine my suprise that during the time I am researching this watch, I am taking a break, a mind melt from all research. I go to Youtube, a documentary about the bombing of Dresden. And here flashes a Gruen Pan American model. Hoaky part of the video, though, for all I know the producers all flashed their epensive watches under the camera and the watch was never used by pilots. But I think not, these were about what America would produce at that time. They are each dials built for pilots and bombers by conting lume, having second hands marked out, 24 hours, large crowns...
The video shows to military pilot actors check their watch like they are synchronising, then the camera moves to the watch. Is that fur? Producers wrist while haing drinks? Or real military watch dials used by airmen during WW2?
But I think not, these were about what America would produce at that time. They are each dials built for pilots and bombers by conting lume, having second hands marked out, 24 hours, large crowns...
But you should check this out if your into military flight watches. Three watches are flashed, the first is a Gruen Veri-thin 24 hour dial, Pan American. The second and the third all are flight watches in their own right. Here is that Youtube documentary starts at the watches: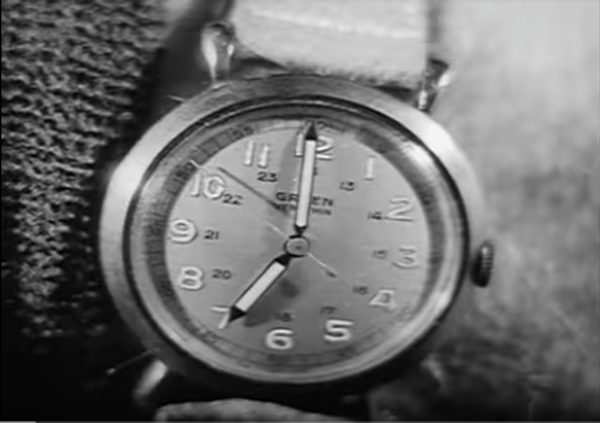 I have been curious of The American Airforce watch and if they were ever commisioned a flight watch esp. during ww2.
Resources
High Resolution B&W photos of Time hill in Cincinnati.
You must check out these photos of Time Hill. http://www.gruenwristwatches.com/ref-rare-time-hill-super-high-resolution-photos.php
Article, History of the Gruen's in the US
Excellent Article, History of the Gruen's in the US
Gruen made phenominal ladies watches. The perfect fit from a company whose vision it is to make the movement smaller. The succeeded in smaller and curved, and rectangular; Gruen took the round movement of pocket watches and made them thinner, rectangular, and curved. Perfect jewelry.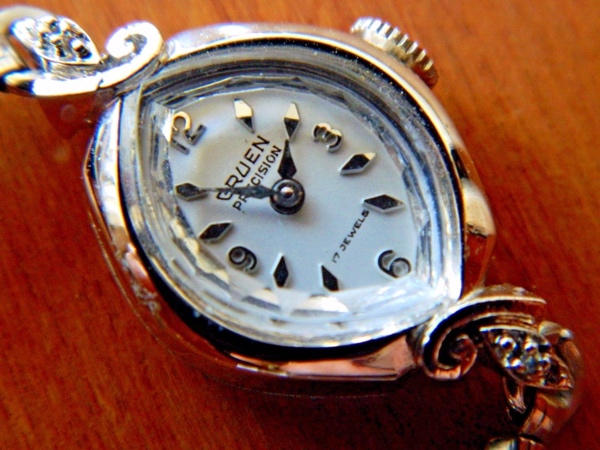 FOR GRUEN Watch Collectors: